SEGA Genesis Classics PlayStation 4, PlayStation 5 SC-63230-9 - Best Buy
SEGA
Highly rated by customers for:
$29.99 Your price for this item is $29.99
15-day free & easy returns
If received today, the last day to return this item would be Oct 6.  Learn more >
If you change your selection, the current page will be refreshed.
If you change your selection, the current page will be refreshed.
Protect your gaming software
Warranty Protection Plans
2-Year Geek Squad Product Replacement
Learn more
Save
Description
Bring iconic games to your screen in SEGA Genesis Classics for PlayStation 4. Choose from over 50 titles, including Sonic 3D Blast, Golden Axe, Bonanza Bros. and Phantasy Star II. Modern upgrades let you save your game progress at any time, so you can come back and defeat your favorite titles. SEGA Genesis Classics includes online achievement boards, which players can use to boast about their top scores.
Features
Get free bonus - fans who buy SEGA Genesis Classics will receive a double-sided poster featuring Streets of Rage on one side and Golden Axe on the other
Over 50 titles across all genres from all-time classics like Sonic and Streets of Rage 2 to deep RPGs like the Phantasy Star series; arcade action, shooters, beat'm ups, puzzlers, old favorites and hidden gems
New features bring modern convenience to the classics
Save your game at any time, rewind those slip-ups and customize your controls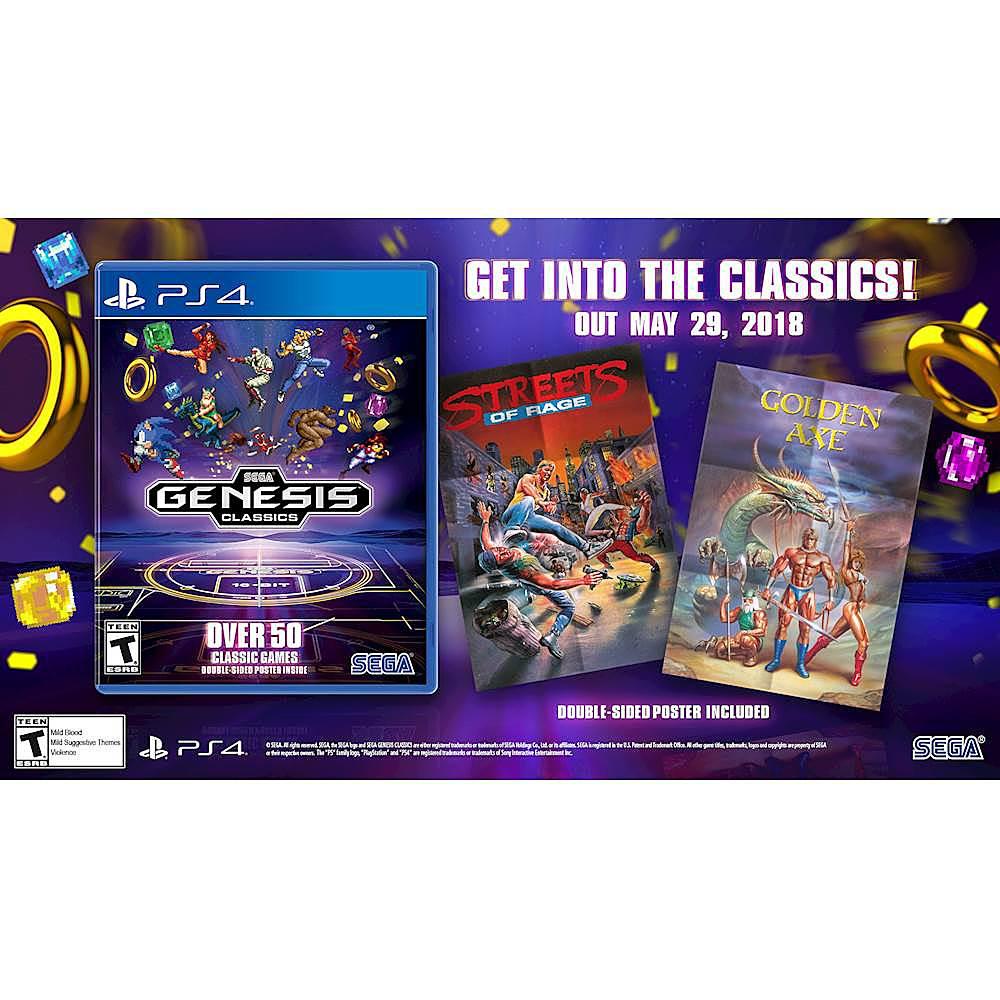 Earn bragging rights with online multiplayer and achievements
Complete list of titles include:
Alex Kidd in the Enchanted Castle; Alien Soldier; Alien Storm; Altered Beast; Beyond Oasis; Bio-Hazard Battle; Bonanza Bros; Columns; Columns III: Revenge of Columns; Comix Zone; Crack Down; Decap Attack; Dr. Robotnik's Mean Bean Machine
Dynamite Headdy; ESWAT: City Under Siege; Fatal Labyrinth; Flicky; Gain Ground; Galaxy Force II; Golden Axe; Golden Axe II; Golden Axe III; Gunstar Heroes; Kid Chameleon; Landstalker; Light Crusader; Phantasy Star II
Phantasy Star III: Generations of Doom; Phantasy Star IV: The End of the Millennium; Ristar; Shadow Dancer: The Secret of Shinobi; Shining Force; Shining Force II; Shining in the Darkness; Shinobi III: Return of the Ninja Master
Sonic Spinball; Sonic 3D Blast; Sonic the Hedgehog; Sonic the Hedgehog 2; Space Harrier II; Streets of Rage; Streets of Rage 2; Streets of Rage 3; Super Thunder Blade; Sword of Vermilion; The Revenge of Shinobi
ToeJam & Earl in Panic on Funkotron; ToeJam & Earl; Vectorman; Vectorman 2; Virtua Fighter 2; Wonder Boy III: Monster Lair; Wonder Boy in Monster World
SEGA Genesis ClassicsDouble-Sided Poster
Certifications & Listings
Reviews
User rating, 4.5 out of 5 stars with 411 reviews.
(411)
Customer rating
4.5
Rating 4.5 out of 5 stars with 411 reviews
(411 Reviews)
94% would recommend to a friend.
Write a Review
would recommend to a friend
Customer images
Page 1 Showing 1-8 of 411 reviews
Show only Answered Questions (5)
Page Showing 1-7 of 7 questions
Similar products from outside of Best Buy
Show off-site product information info