Sutter Health Park A-Z Guide
CONTACT INFORMATION
Front Office Hours:
Monday-Friday, 8:30 a.m.-5 p.m.
Address:
Sutter Health Park
400 Ballpark Drive
West Sacramento, CA, 95691-2824
General Phone Numbers
Front Desk: 916.376.4722
On Deck Shop: 916.376.4796
Events & Entertainment: 916.376.4676
Accessible/Disabled Tickets Hotline: 916.376.4636
*Current MLB and Local COVID-19 Reopening Guidelines*
Fully vaccinated guests will no longer be required to wear a mask while attending events at Sutter Health Park. It is still recommended that unvaccinated guests continue to wear a face covering. Children under the age of 2 are not required to wear a mask. Click Mask to view the full CA guidance.
The River Cats and Sutter Health Park will continue to operate as a cashless facility, mobile tickets will still be used for entry, and the clear bag policy will remain.
Please feel free to email **[email protected]** or call (916) 371-HITS (4487) with any questions.
Cashless Facility
Sutter Health Park is a cashless facility. Fans may use major credit cards, debit cards, or River Cats gift cards for all concessions and merchandise purchases while at the facility. Please note that gift cards may not be used for the purchase of parking passes when entering the parking lots.
Cash may be exchanged for River Cats gift cards in Sutter Health Park at the Advanced Ticket Sales window located behind Section 113.
Face Covering Policy
Fully vaccinated guests will no longer be required to wear a mask while attending events at Sutter Health Park. It is still recommended that unvaccinated guests continue to wear a face covering. Children under the age of 2 are not required to wear a mask. Click Mask to view the full CA and CDC guidance.
Mobile Tickets
Access to events at Sutter Health Park will require the use of mobile tickets. Guests may purchase tickets online at rivercats.com or by visiting the Tri-Counties Bank Ticket Office located at Sutter Health Park.
All tickets will be mobile tickets and require the use of a smartphone.
To manage your mobile tickets, visit rivercats.com/accountmanager or download the River Cats app, MiLB First Pitch. Once the Sacramento River Cats have been selected as your preferred team, you will see the Account Manager link under RIVER CATS INSIDER.
Please visit our MOBILE TICKET GUIDEBOOK (Mobile Ticketing Guidebook | River Cats (milb.com)) for more information or you may email [email protected] or call (916) 471-HITS (4487).
Mobile Parking
Cash will no longer be accepted in the parking lots operated by the River Cats. Fans are encouraged to purchase a parking pass when they purchase their tickets.
River Cats operated parking lots will accept all major debit and credits cards for the day of event parking.
Clear Bag Policy
Fans entering Sutter Health Park must comply with the CLEAR BAG POLICY and all bags are subject to search upon entry and within the ballpark. Please place all belongings in a clear plastic bag to help remove the need for unnecessary lines and contact. Click CLEAR BAG POLICY to review the full policy.
If you need a clear bag, the On-Deck Shop has them available for purchase. Please visit the On-Deck Shop at the ballpark or online at rivercats.com
ALCOHOL
California State liquor laws prohibit guests from bringing alcoholic beverages into or out of Sutter Health Park. The only alcohol permitted on the premises must be purchased and/or dispensed by authorized servers. Must be 21 or older to purchase alcoholic beverages. Guests who appear to be under the age of 40 will be required to show approved identification. Only "Bona Fide" identification that is currently valid (not expired), issued by a Government Agency, and containing the following will be accepted: name of the person, photograph, physical description, and date of birth.
No guest will be served more than two alcoholic beverages at any time. Alcoholic beverage sales on the concourse level will be cut off at the first pitch of the eighth inning during a baseball game and at designated times during concerts and other events.
When placing a mobile order, guests will be limited to two alcoholic beverages per order and must be prepared to show ID upon pickup.
ANIMALS
Certified service animals are allowed into Sutter Health Park. All other animals are prohibited.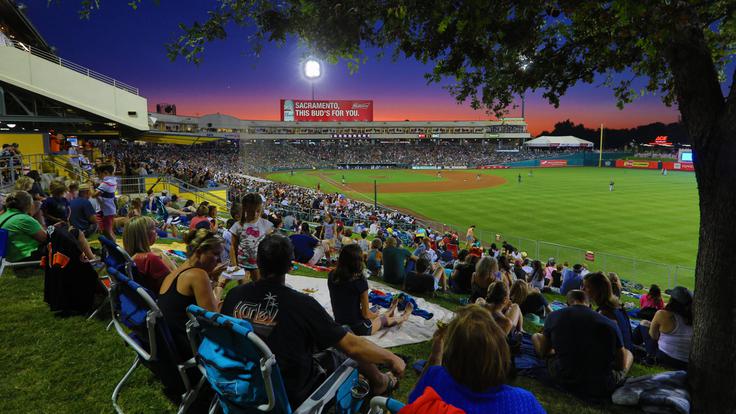 AUTOGRAPHS
*In efforts to avoid crowding, proximity, and unnecessary contact, MLB has asked fans and players to avoid asking for or providing autographs at this time. Thank you for your support and understanding. *
Previous policy: Guests may seek autographs from players and coaches from the time the gates open until 15 minutes prior to game time. The autograph areas are located on the outer sides of both the home and visiting dugouts. Guests will not be allowed to seek autographs at the dugout corners closest to home plate. Please be courteous and respectful to the players and coaches as well as guests possessing tickets in autograph areas. If you are seeking autographs in a seating section other than your own, you may be asked to proceed to your designated seating section.
ATMs
ATMs are no longer available. Sutter Health Park is now a cashless facility and all major debit and credit cards will be accepted for payment. River Cats gift cards may also be purchased and used as payment for tickets, merchandise, and food and beverage.
BABY-CHANGING AREAS
Baby-changing stations are located in every restroom at Sutter Health Park. Please refer to the stadium map for restroom locations. In addition, Sutter Health Park has two family restrooms located on the concourse at Sections 106 and 117 and one on the Suite Level across from Suite 22.
BAG SEARCH
All bags must adhere to the "CLEAR BAG POLICY" and are subject to search upon entry, and within the ballpark. Prohibited items should be disposed of in the trash or recycle containers, or may be returned to one's vehicle. (See PROHIBITED ITEMS)
BANNERS AND SIGNS
Banners or signs may be brought into Sutter Health Park as long as they do not interfere with the game in progress and they do not obstruct the view of other guests in the area. Banners may not contain political or commercial messages or display inappropriate phrases or words. Sutter Health Park reserves the right for its staff members to remove any banners or signs at their discretion.
BATTING PRACTICE
Gates open one hour before game time allowing guests to view infield practice for the visiting team. Please note: on dates with large crowds expected, Sutter Health Park may open 2 hours prior to game time to accommodate all of our fans. Be sure to arrive as soon as the gates open and catch all the pregame action. River Cats batting practice generally occurs before gates are open, and both teams' BP is subject to cancellation.
BEACH BALLS AND BROOMS
Beach balls and other inflatable items are not permitted in Sutter Health Park. Brooms used to celebrate the River Cats "sweep" of an opponent may be brought in, provided they do not exceed three (3) feet in length and do not interfere with other guests' enjoyment of the game.
BEVERAGES, BOTTLES, AND CANS
Guests are not allowed to bring any outside beverages, cans, or bottles into Sutter Health Park. The following items are permitted: unopened, soft-sided containers of drinks such as water, small milk cartons, juice boxes or pouches, baby formula, bottles, baby food for children, and medication or other special needs. Please note that permitted sealed bottled water only applies to water without ANYTHING added to it. Sports drinks or other flavored waters are not allowed. Permission to enter the stadium with any beverage is at the discretion of security or front office personnel.
BICYCLE VALET
Sutter Health Park offers a complimentary bike valet, located on Ballpark Drive, near the ticket plaza, which is located in front of the Tri Counties Bank Ticket Office when facing the ballpark.
BOOSTER SEATS
Booster seats are available for ticketed children and may be checked out, free of charge, from the Guest Services Office located on the concourse behind Section 112. Guests will be required to leave either their driver's license or major credit card as collateral.
BROADCASTS
TV: River Cats Saturday home games will be broadcast locally on KMAX CW31.
Radio: River Cats games can be heard on rivercats.com or on the MiLB First Pitch app.
CAMERA AND VIDEO EQUIPMENT
Guests are welcome to bring still and handheld video cameras into Sutter Health Park as long as the equipment does not interfere with other guests' enjoyment of the game. Guests wishing to use equipment that requires the use of a tripod at a fixed position in the stadium must contact the River Cats Public Relations Office for permission. Any rebroadcast or reproduction of the game or the event without the express written consent of the Sacramento River Cats Baseball Club, LLC and its affiliates is prohibited*.
*The camera and video equipment policy is subject to change at any time without notice.
CHILDREN
Age Restrictions
Children 23 months and younger do not need a ticket for entry into Sutter Health Park; however, they must sit on the lap of an accompanying adult and will not be reserved a seat. Children two years of age and older must have a ticket.
CODE OF CONDUCT
Sutter Health Park and its employees are committed to providing our guests with an enjoyable, safe atmosphere. Our staff will proactively intervene, up to and including removal from the ballpark, in order to support a family-oriented environment where all guests can enjoy the baseball experience free from the following behaviors:
Foul or abusive language or gestures
Intoxication or other signs of impairment
Displays of affection not appropriate in a public, family setting
Obscene or indecent clothing
Any disruption to the progress of the game by guests' actions or unauthorized person on the playing field
Guests seated in a location other than their ticketed seat; misusing tickets, passes or credentials
Smoking (including vaping) is prohibited everywhere at Sutter Health Park
If someone interferes with your enjoyment of a game, please contact a Guest Services representative for assistance or text "FOUL" with your issue and location to 916-376-4992.