Play The Literal Trump Card: Fake News Is Now A Card Game ...
Fake news, the card game.
Rebecca Heilweil
License 2 Play, a wholesale toys distributor, mostly sells kids' toys. Products like "Beanie Boo's" and "Betty Spaghetti" cover its site, and it works with brands like Tangled and Play-Doh. But the company recently took a gamble on a new sort of product, a card game called: "Fake News/Real News: The game of Fake News and Alternative Facts," and so far, it's been a winning bet, with an ultimately charming product and the potential for follow-up editions.
The rules are simple. Each player gets a turn to read a from a set of quotes that have been uttered by President Donald Trump, Kellyanne Conway, Steve Bannon, Reince Priebus, Ben Carson, Sean Spicer or Mike Pence. The twist: the quote might also be deceptive "fake news." Each player guesses who they think said the quote, or if it's fake news, and if they're right, win a point. The person who reaches 11 points first wins.
Jayson Esterow was first pitched the idea for the game back in February at the American International Toy Fair in New York. Two game inventors approached him with a politically-relevant idea: turning one of history's most quotable elections into a card game. Esterow was immediately intrigued. The inventors assembled over 300 real and fake quotes, fact-checked and cited. 100 days after President Trump's inauguration, the game was released to the public. The inventors currently run a Facebook page where they post more "fake" content as a marketing strategy.
The game is really more of a media literacy game than a "fake news" game. The quest of the game is not, of course, to verify whether or not what President Trump or Kellyanne Conway said was true, but whether they actually said it.
The deck is currently being sold at Barnes & Noble, Books A Million, It's Sugar, and, of course, Amazon. The company hopes to release another edition in 2018, perhaps just in time for next midterm elections. With the resignation of Sean Spicer, a new version of the game may introduce a new character. The company is also flirting with the idea of creating versions for other industries, like sports. Esterow says the product is over-indexing on Amazon.
But unlike these products, games that riff on current events, especially politics, are risky for stores to sell, who don't want stock that seems to insult or undermine a sitting President. "[The] biggest challenge is making it clear that it isn't a partisan game," says Jayson Esterow. Still, the game exemplifies a nifty way to take current events and spin them into a product, and a learning experience.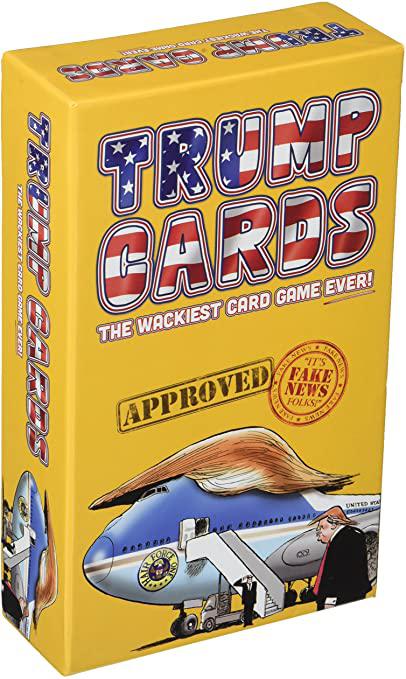 According to the "customers who bought this also bought," feature of Amazon, the games' online buyers lean liberal. Products bought with the game include new books by Al Franken and Elizabeth Warren, and Howard Jacobson's "Pussy."
The images on the cards don't make the assumption of non-partisanship easier. Donald Trump's card has a "Made in China" hat, small hands and Russian-flag pin on the Trump profile card don't help. The Mike Pence card appears to be flipping someone off. But it's all in good fun.
I played this game along with both ardent Trump and Clinton supporters, and collectively, we found the game engaging, even cathartic. The Trump quotes are the easiest to identify, due to the President's unique voice, though players might get tripped up by some fake quotes that do a good job of imitation. The more diabolical, conspiratorial discussions will lead players to guess Steve Bannon, but players might be surprised that some of these quotes have actually come from Vice President Pence or even Reince Priebus. In a way, the game is a lesson about how spoken delivery, often funneled through seconds-long sound bytes, influences how we understand 21st-century politics.
The infamous Ben Carson quote completely stopped our round for about twenty minutes, as a Trump voter playing broke down crying and laughing, unable to completely read the quote. For reference, it's: "But also, you know, this whole concept of boots on the ground, you know, we've got a phobia about boots on the ground. If our military experts say, we need boots on the ground, we should put boots on the ground and recognize that there will be boots on the ground and they'll be over here, and they'll be their boots if we don't get out of there now."
"The quotes are timeless," says Esterow. "The game kind of writes itself."
For some, this game might be painful to play. Clinton supporters could find themselves emotionally distressed by the sentence structure of the candidate they failed to beat. Trump voters might find themselves frustrated by the accuracy and the incoherence of the White House administration statements they helped create. But for those looking for a way to break the tension of the election between friend-groups or families, Fake News/Real News is for you.
However, when I won the game (by a long shot), I asked my opponents if the win had proved I knew more about politics than them, and that they should listen to me more the next time an election came around.
They, of course, said no.