More than games: Chesterfield students explore new horizons in regional tech school's video gaming 'esports' league
The CodeRVA tech high school in the city has one of the region's first high school esports teams for high schoolers and includes four students from Chesterfield County on the 10-person squad. ASH DANIEL
Students at CodeRVA High School are buzzing about their "Velociraptors," who this week sank their teeth into "Unprocessed Chicken Nuggets." They're savoring a win.
The "Velociraptors'' beat the "Nuggets" in a new sporting event that's spreading across the country – competitive video gaming. Four members of the CodeRVA team – freshmen Israel Miller, Luca DiBenedetto, Elijah Espinal and senior Alex Harlow – are from Chesterfield County, attending the regional high school to prepare for careers in computer science and coding.
CodeRVA is a regional tech school that draws students from 15 different municipalities in Virginia, including Chesterfield County, which contributes the most money and sends the largest cohort of students – 95 of 344 total, says the schools executive director, Kume Goranson. The school is located in a former A.H. Robins Company building close to I-95 in Richmond's Scott's Addition district.
The school has strong ties to the county. Goranson came to CodeRVA after 22 years in CCPS, serving as the principal of Bailey Bridge Middle School before working in the district's administration overseeing county middle schools. CodeRVA's classrooms also feature a strong strain of CCPS DNA with 13 former county teachers on the staff of 31 instructors.
Since the late 1970s, when video games first splashed across low-resolution screens, they've become an American pastime. The Electronic Software Association, an industry trade group, estimates that more than 220 million of us play some sort of video game. Organized online competition, or "esports" (pronounced e-sports), is a burgeoning segment of that market, vying today with live sports for the attention of high school and college players and administrators, and localities across the country eager to mine sports tourism for new sources of revenue.
Sources disagree on the exact value of the video game market, but most estimates hover at or above $1 billion a year. That's not far-fetched, says Joey Gawrysiak, a business professor and director of esports at Shenandoah University in Winchester. He estimates that 99% of boys and 94% of girls will play a video game by the age of 12. Video games don't require special size or strength and are never spoiled by the need for a clear outdoor space or good weather. Video game graphics and sophistication match every advancement in computer technology, spawning generations of players who expect fresh challenges and more realistic play every year.
Video games aren't a novelty for students at CodeRVA High – they're just a part of life. The kids have been playing video games for as long as they could hold a controller, a full generation away from gaming's genesis, truly digital natives.
Here's how far things have come. In 1978, Coleco's handheld Electronic Quarterback promised "All the Action of a Real Football Game" on a screen that barely measured five inches wide and one and a half inches high. Blinking blips of red light that moved up and down or left and right represented the action on the "field," a black background. Today, Electronic Arts' Madden NFL 22 displays smiling and scowling players, recognizable players on current NFL rosters, in full uniform and helmets on whatever size screen you own, running and jumping and blocking and tackling in virtual arenas packed with fans who cheer and jeer the way they do at live games. Players even taunt each other after touchdowns.
Madden users run real NFL offensive and defensive schemes, and beyond the campaign of a season or single game, can manage minutia as varied as the skills of a team's coaching staff. The choice of a human opponent is only limited by a user's high-speed bandwidth. Like all computer-based activities, video games have migrated to the internet.
Esports is defined in part by an online presence. Physical distance is meaningless for amateurs and professionals alike. Players stream and record their play for platforms like YouTube and Twitch, where spectators are invited and expected to comment, often in real time. Top players can earn millions from corporate sponsorship. Top content creators make money from subscribers and on clicks. Arenas like Brooklyn's Barclays Center and the Staples Center in L.A. boast attendance of nearly 20,000 for live Esports events. Enterprising developers are designing arenas to host crowds of live Esports spectators. Esports Stadium Arlington in Texas bills itself as "the largest dedicated esports facility in North America … a turnkey solution for Esports events and productions." It measures 100,000 square feet.
The most popular esport games are "first-person shooters," or FPS, which require hitting targets or other players from the perspective of the player with the weapon. Popular games in the category are Fortnite, Call of Duty, Halo, Counter Strike: Global Offensive and Overwatch. Like all video games, FPS titles are rated on their levels of violence, language and adult themes by the ESRB, the Entertainment Software Rating Board. In ESRB ratings, "E" is for everyone, "E10+" for those older than 10, "T" is for teens 13 and older, "M" is for mature players 17 and older, "A" games are for adults only who are at least 18. The most popular esports titles are rated "Teen" or "Mature."
The Virginia High School League, which regulates competition for both athletics and activities such as debate, forensics and robotics, classifies esports as "emerging." Administrators have guidelines for organized competition, but play is not yet officially sanctioned. Darrell Wilson, VHSL's assistant director for academic activities, says esports are growing in Virginia, with 72 of 317 member schools, almost 23%, fielding at least one esports squad last fall. Activities that reach 50% become eligible for greater VHSL support and sanctioned state championships.
At CodeRVA High last Thursday, science teacher Zach Jernigan led his students through a lesson on ribosomes, a cellular structure on which our cells depend to synthesize proteins and polypeptides. His class followed the path of amino acid pairings to construct a protein – pretty heady stuff about the building blocks of life.
Jernigan is also the enthusiastic sponsor of two esport activities, CodeRVA's competitive team, the Velociraptors, and also a casual group for whom winning isn't as important as having fun. He had to enlist help from around the state to organize the groups because there wasn't much of a scene in metro Richmond, "like [there is in] Northern Virginia, Norfolk, or Newport News," he says.
The largest cohort of students and the largest financial contribution to the CodeRVA tech high school comes from Chesterfield County. ASH DANIEL
Because CodeRVA High is new, with just two graduating classes so far, and without athletic facilities on site, they've never had competitive sports and are not yet a member of VHSL. Instead, the esports team competes against squads from up and down the East Coast. "I would say I had 30, 40 kids try out for the team," Jernigan says proudly. The student body is 344. "Pretty good, all things considered." The team is divided into two squads of five, playing Nintendo's Smash Brothers. "It is a one versus one fighting game, made up of Nintendo characters," Jernigan explains. "It's rated, I believe, 'E' for everyone."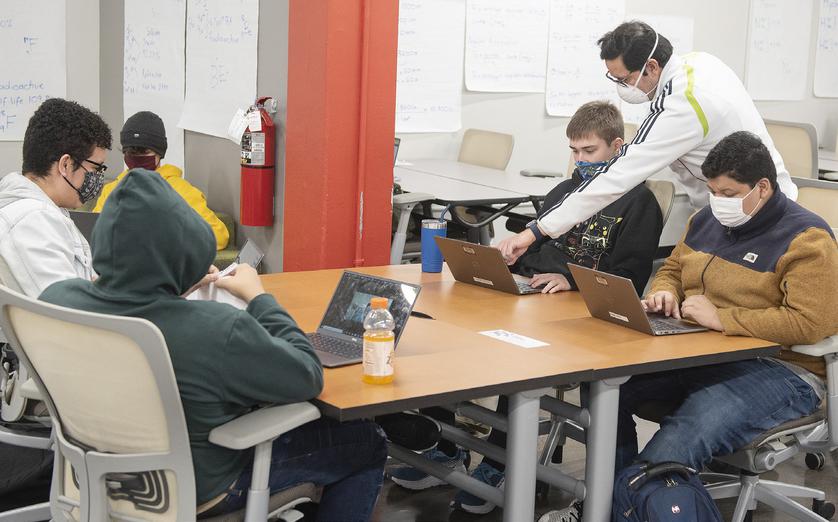 Cognizant of the gory violence, wanton destruction and foul language that characterize many popular games, VHSL bans FPS in high school competition, recognizing only games with age-appropriate ESRB ratings. These include League of Legends, Rocket League and Nintendo's Smash Brothers Ultimate. While nearly every popular title has some element of combat, Wilson believes the ultimate goal for high school players is teamwork. "When we look at those games compared to the games we're playing, a multiplayer game, the outcome you're looking for is for the students to be cooperative. They're engaging. They're strategizing … as opposed to the focus of the first person."
One of the challenges of developing Esports programs in high schools lies in the nature of video gaming itself. "What's different about Esports and traditional sports is that nobody owns baseball," notes Gawrysiak. "Nobody owns basketball. But publishers own League of Legends. They own Rocket League. They own Smash Brothers. And so at any time, those publishers can say, 'No,' you're not allowed to run this league. And there's nothing you can do about it. So you have to go with what the publisher says from a legal intellectual property standpoint, which can make it very tricky."
In Virginia, the platform linking publishers and high school players is PlayVS, a private, for-profit company which operates in about 25 states. According to VHSL's Wilson, PlayVS (pronounced "Play Versus") provides a suite of technical support and coordination that schools can't provide themselves. He describes it as "a turnkey operation for us, where the schools register with them and PlayVS handles all the work with game publishers." PlayVS also manages school firewalls, which restrict the online access students need in esports. And while the majority of esports are played on computers, PlayVS negotiates access to equipment for schools that want to play Nintendo titles, which require proprietary equipment and consoles. Wilson says the costs are absorbed by participating schools, akin to recurring expenditures for other school activities and athletics. The Velociraptors at CodeRVA High connect to competitors through PlayVS.
High school esports may be an opportunity for kids to build social skills and character in the manner we associate with traditional sports. "And it's not just the gameplay," according to Wilson." What we're finding is that there are opportunities for students who may not play the games to be able to help their school from a technical standpoint, just like a basketball manager." Because online communities rely so heavily on sharing, creating and curating content are key elements of esports. So is play-by-play commentary, which in esports is called "shoutcasting." Students don't have to play a game themselves to be part of the esports action.
Jernigan makes sure his esports team understands they represent their school and should be examples of good sportsmanship in any arena. "Because their online culture in general can be a little bit more, the word we use is, 'toxic,' than everyday life." That toxicity includes foul language, racism and sexism, which all appear regularly in unregulated chat rooms and social media. "We have expectations of our students here. And I told them when they made the team that now you have higher expectations."
If things get out of hand, Jernigan is prepared to discipline his players. "If I see that toxicity start to show up I'm doing the same thing as any coach, benching." Forcing a student out of play teaches kids about consequences. Jernigan says the goal should be redemption. "Giving them the opportunity to, you know, work their way back. … I mean, kids make mistakes."
The Chesterfield kids playing for CodeRVA High are soft-spoken, well-mannered and serious about their gaming. When asked about practice, Israel Miller blurts out, "Important!" Elijah Espinal says controller skill is his strength. Luca DiBenedetto loves the competition. Straight faced, he says, "My goal is to be the best." Alex Harlow, the senior member of the Chesterfield cohort explains that knowledge is his strong suit, "A lot of game knowledge."
Before the internet revolutionized the genre, kids played video games with friends and classmates, siblings and, if they were lucky, a parent. "It was actually a way that me and my dad bonded," Sean Kelly recalls. The 22-year-old Shenandoah University senior and New Jersey native will graduate with a double major this spring, with bachelor's degrees in business administration marketing and esports management.
Kelly's path to a degree in esports began as a Division 3 athlete. But he lost interest in soccer after a year, when Gawrysiak invited him to play in Shenandoah's competitive esports program. Kelly captained their "Overwatch" team for two years. "And then after that I started kind of finding my niche in the actual industry and what I wanted to do, which was content," he says. Kelly honed content-creating skills in videography, editing and production on university trips to competitions in Korea in December 2019 and Amsterdam in October 2021. His esports degree also required classes in event management.
"You're learning how to do things in the real world that people are doing," Kelly says.
He also worked with PlayVS on a VHSL tournament last year. "I kind of produced it and came up with the whole run of show and came into the arena and showed my idea of how I wanted the arena to look and how I wanted the stream to look," he says.
He's looking for a career in broadcast strategies and still plays video games online with his father several times a week.
Gawrysiak likens it to the early days of studies in sports management: "We're talking about marketing, the revenue generation, the management, the facility design, the governance structure, the performance coaching ideas, the content creation, the broadcast production side of things." He believes proficiency in these areas will support careers in esports and other lines of work as well.
CodeRVA's graduates will be excellent prospects for college level programs in esports. The school's principal Kume Goranson explains the three kinds of diplomas her students can earn. "We have a regular high school diploma track, just like anything you'd get in any other high school. Except, she says, "no student can opt out of computer science here."
Kume Goranson, a former CCPS principal and administrator, is the executive director of the regional tech high school CodeRVA. ASH DANIEL
Those students can specialize in cybersecurity, hardware, networking, game development and web programming. The second diploma offers up to 33 dual-enrollment credits from Reynolds Community College. "And then, our most rigorous pathway is our associate degree. So students can earn a two-year associate degrees through [Reynolds] with a specialization in computer science." It's excellent preparation for a high-tech world.
Chris Winslow, the Clover Hill District representative and chair of the Chesterfield Board of Supervisors, also has his eye on a high-tech future. On a December trip to Texas for the U.S. Sports Congress with Richmond Region Tourism, the supervisor made a separate visit (on his own dime, he notes – the nonprofit RRT paid only for his registration to the congress) to the Esports Stadium in Arlington, that massive facility for esports play, training and live events. He was impressed. A center for esports could also be used for events beyond video gaming. "One of the things I think is critical to the story is understanding the economic impact of this, when all these folks converge on the stadium …with, you know, all the vendors … it brings people who are trying to think about what the next big thing is."
Jernigan, CodeRVA's esports sponsor, agrees. "I think there's definitely a big head of steam behind it. I don't think it'll ever get to the level of, like, Friday night football … but I definitely think it's moving in the right direction. We're hoping that we'll get some kind of crowd and cheering just like you would see in any sport, helping us build a community."
CodeRVA High's 2022 season runs through April, and like any hopeful coach, Jernigan is hoping the team performs well. "We're just getting started so I have no idea how strong our competition is," he says, adding, "I know our students – they're really talented." You'd hear the same speech from a high school football coach, complete with managed expectations.
But Jernigan's goal is clear: "They do have an end-of-the-season tournament. If our teams qualify, …we'll compete … to hopefully win a regional championship. Who knows – when you compare the whole East Coast – like, how talented we are. We'll see!"
Supervisor Winslow is also thinking about seizing opportunity, suggesting that an esports stadium, or one equipped to handle it, might fit nicely at the old Southside Speedway, recently acquired by the county and adjacent to Chesterfield's River City Sportsplex on Genito Road. "We need to be open to the conversation of advancing this in a public-private partnership," he says. Winslow describes a proposed facility as a haven for Virginia high school students embracing esports. "It doesn't have to be 100,000 square feet, you know. … But I do think we need to have an outpost here in Chesterfield to start out with." ¦
Chesterfield students can enter the lottery that selects candidates to attend CodeRVA. The registration deadline is Friday. Visit coderva.org to register.