Euclid Euclid's got game: OMNI Board Game Parlor passes 'go' on Lake Shore Blvd.
Something new is on tap in the former Euclid Brewing Co. space: OMNI Board Game Parlor, a social café devoted to all things tabletop gaming. One of just a handful of similar businesses in Greater Cleveland—including Ohio City's Tabletop and Hudson's the Malted Meeple—OMNI Board Game Parlor is the first business of its kind on the east side.
"Growing up, I used to have to go all the way over to the west side to check out a comic book store or attend a Pokemon convention," says owner and board game enthusiast Jason Gardner, who grew up in Euclid and now lives in Collinwood. "I wanted to do something new and bring something different to the east side."
Mission accomplished: OMNI Board Game Parlor is now officially open following a ribbon-cutting ceremony Sept. 30. Patrons can pay $5 for unlimited play, making selections from Gardner's collection of 70+ games (ranging from Taboo to Clue to Jim Henson's Labyrinth). The cafe will also host special events, like an upcoming UNO tournament and Halloween costume contest.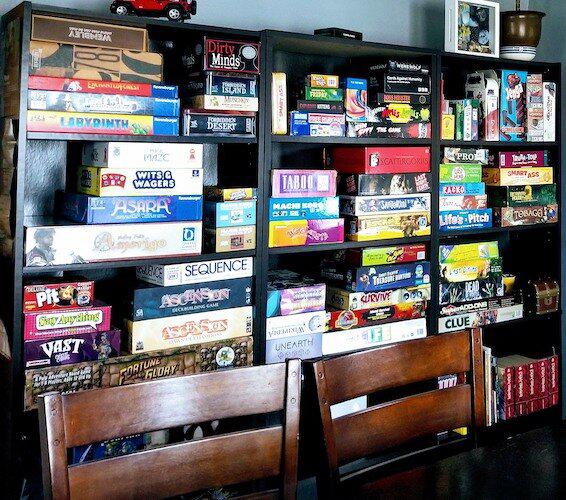 The 2001 Euclid High School grad was initially inspired to pursue the idea after visiting Kingmakers, a board game parlor in Columbus' Short North neighborhood. "It blew my mind—I had never seen anything like it," says Gardner, who has been developing the business for the last three years. "It was like a bell went off."
Though Gardner was initially eyeing East 185th Street as the site of his new business, he says he fell in love with his current downtown Euclid space for its location adjacent to Lake Shore Coffee House and restaurants like Great Scott Tavern and Paragon Wine Bar. Currently, Gardner sells soda and chips out of OMNI Board Game Parlor, but he's hoping to establish partnerships with surrounding restaurants so that patrons can order off their menus. He's also obtaining a beer license and plans to be selling craft beer by the end of October.
As Euclid Chamber of Commerce executive director Sheila Gibbons sees it, OMNI Board Game Parlor is a refreshing addition to the strip of businesses on Lake Shore Blvd. "It's great to see such a unique, family-friendly concept coming to downtown Euclid," says Gibbons, adding that the injection of new business intersects well with the forthcoming establishment of downtown Euclid as a special improvement district.

In the future, Gardner hopes to expand to include electronic gaming, but right now, he's content to bring people together over a board game or two in his newly established cafe.
"I really love the social aspect of board games, and it's more intimate in a small space," says Gardner. "We all live pretty isolated lives nowadays, and board games bring everyone back together."

This article is part of our On the Ground - Euclid community reporting project in partnership with City of Euclid, Euclid City Schools, Tri-C, and Cuyahoga County Board of Health. Read the rest of our coverage here.