Busch Stadium Information Guide
Baby Changing Table Stations
Baby changing tables are available in most Busch Stadium restrooms.
Ballpark Village
Ballpark Village is a first-of-its-kind sports anchored entertainment district. Located just across Clark Street from Busch Stadium, Ballpark Village provides many options for dining, drinks and entertainment, including a 40 foot TV in the Fox Sports Live! area and live music.
More information is available online at stlballparkvillage.com.
Cardinals Nation (#CardsNation)
Cardinals Nation, a 30,000 square foot venue at Ballpark Village, is the official headquarters for Cardinals guest to stay connected to the team year-round. It is comprised of four key elements:
Cardinals Hall of Fame and Museum
The Cardinals Museum boasts one of the largest team-specific collections of artifacts and memorabilia in the world and its seven galleries take you on a chronological journey through the rich history of the club.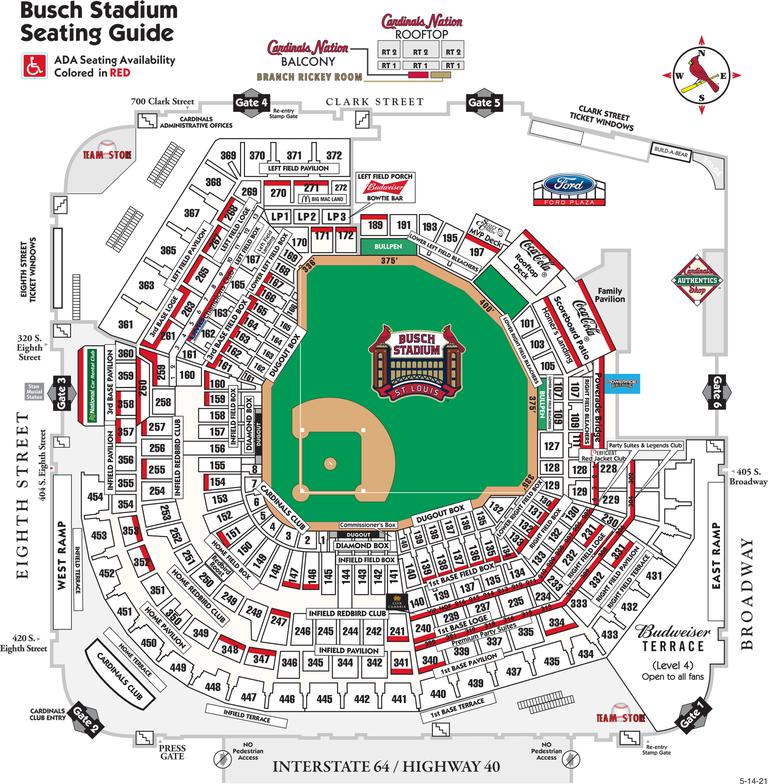 Hours
10:00am - 6:00pm
(Museum stays open through 7th inning on game nights)
Museum Tickets
Adult: $12
Senior/Military: $10
Child: $8 (children 3 and under receive free admission)
Admission is free for ticketholders in the Cardinals Nation Rooftop and Cardinals Nation ticketed areas during home games.
For more information go to cardinals.com/museum.
Cardinals Nation Restaurant and Bar
Enjoy world championship service and catch all the action on over 50 flat-screen TVs, dine on one of our three patio decks or grab a seat at one of the four full-service bars. This two-story restaurant space is filled with Cardinals history and memories. Bringing an old school vibe to a contemporary dining experience, the Cardinals Nation Restaurant and Bar is great for family, friends and guests of all ages.
Hours
Monday - Thursday 11 am - 9 pm
Friday - Saturday 11 am - 10 pm
Sunday 11 am - 8 pm
Happy Hour: Monday-Friday 4 - 6 pm (Excluding home game days)
Closed on Thanksgiving, Christmas Eve, Christmas Day
*Hours will be extended during home evening games
For more information, go to cardinalsnation.com. Online reservations are not available on home game days. For general reservations or group bookings on home game days, please call 314-345-9880.
Banners/Signs
Banners may be displayed as long as they do not hinder or interfere with a ball in play or distract or interfere with the view of another guest. Banners may not be displayed in fair territory, be obscene or in poor taste, attract abuse or cause a disturbance among other guests. They should be baseball-oriented and not commercial/political in nature, unless the Cardinals have granted permission. Also, banners may not be paraded around the Stadium or hung over the field boxes on the field level. The Cardinals reserve the right to remove any banner, sign or flag.