Best Xbox Controller Chargers To Keep You Plugged In
From fancy Razer charging docks to reliable Duracell batteries, here are the best options for keeping your Xbox controller lights on.
By Darryn Bonthuys on
11 Comments
While most electronics nowadays have rechargeable batteries, Microsoft's Xbox controllers still use a pair of AAs out of the box. If you're using the Duracell batteries that come with the controller (or similar quality batteries), you're likely to get dozens of hours of play time before having to swap them out. That said, some people prefer rechargeable battery packs, so they don't have to keep buying packs of AAs. We've rounded up the best charging stations and battery packs for Xbox controllers, whether you're gaming on Xbox Series X or Xbox One.
Razer Universal Quick Charging Stand For Xbox Series X|S
Razer's Xbox controller stand is an elegant solution to topping up your controller battery between sessions. It takes up minimal space, turns your controller into a peripheral display piece with its magnetic contact system, and its overcharge protection is designed to prevent overheating and short-circuiting. Simply plug the USB-powered stand into your Xbox, PC, or compatible wall-plug, hook up any modern Xbox controller, and you'll soon have it recharged. There are colors available to match all of the new model Xbox controllers.
See at Amazon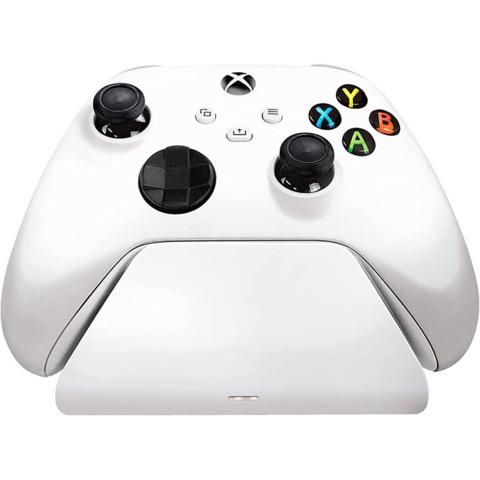 PowerA Charging Stand For Xbox
PowerA's charging stand is a compact brick of black plastic and an LED strip that snakes around it, providing a stylish hub to keep your controller topped up. This particular charger includes an 1,100 mAh rechargeable battery and works with both Xbox One and Xbox Series X|S peripherals. If anything goes wrong with the unit after you purchase it, you'll be protected by a two-year warranty as well.
See at Amazon
Fosmon Dual 2 Max Charger
When you're running out of charged controllers, the Fosmon Dual charger should get you and both your gaming partner back in the fight with its quick charging. Out of the box, you'll get the unit and two 2,200mAh rechargeable batteries that are capable of providing up to 40-45 hours of play time on each charge. Placing a controller in the dock is easy enough, thanks to the metal conductor, and you can easily store your Xbox One and Xbox Series X|S peripherals on the charger when your console is switched off.
See at Amazon
PowerA Play And Charge Kit
While it may not look too remarkable at first glance, the PowerA rechargeable batteries are a quick and easy solution to drained controller problems. Each 1,100mAh battery is equipped with a small USB port that you can plug a compatible cable into, and you'll be able to enjoy up to 40 hours of gameplay on a full charge. As an added bonus, these batteries are also compatible with all PowerA charging stands and stations.
See at Amazon
Smatree Rechargeable Battery Unit
At an attractively affordable pricepoint, Smatree's rechargeable batteries should suit any budget-minded gamer looking to ring some extra juice out of their controllers. While the batteries do take a long time to refuel with electricity, a full charge will net you a chunky number of hours that they can be used for. The dual-charger can handle two batteries at once, they can hold a charge for quite a while, and various safety features should make the unit safe to leave plugged in overnight while you catch up on some sleep.
See at Amazon
Duracell Batteries
It doesn't hurt to have some AA batteries on hand just in case you forget to charge your battery packs. Regular Duracells provide an obscene amount of power, and if you're feeling more environmentally-minded, you can also grab rechargeable AA batteries from the brand. Whatever your choice is, it's undeniably convenient to have a pair of new batteries on hand that you can simply swap the old set out with when it's time to refuel your controller.
See at Amazon (rechargeable)See at Amazon (standard)
Got a news tip or want to contact us directly? Email news@gamespot.com
View Comments (11)Xbox OneXbox Series XGaming Tech