48th Annual Bayou Classic kicks off; game to feature first coach-to-player electronic communication
NEW ORLEANS (WAFB) - The 48th Annual Bayou Classic kicked off on Monday, Nov. 22 with the news conference previewing the historic rivalry between the Southern Jaguars and Grambling State Tigers.
The Bayou Classic returns to New Orleans after spending last season in Shreveport, Louisiana due to COVID-19. Governmental leaders, tourism leaders, Bayou Classic organizers and representatives from both Southern University and Grambling State University will provide updates on this year's Bayou Classic scheduled for November 26-27.
The Bayou Classic will also be the first game to feature in-game coach to player electronic communication. Southern Athletic Director Roman Banks said the NCAA Football Rules Committee approved the waiver for the game this Saturday.
The first NCAA football game with helmet communication (like the NFL) will be Grambling-Southern this week.

I was told this summer the SEC was close to adding it. It's done at the conference level and the rules committee would allow it. https://t.co/yyYDfyCZ5y
— Chris Vannini (@ChrisVannini) November 22, 2021
"This Bayou Classic speaks volumes. It's a historic event," said Southern Athletic Director Roman Banks. "For them to reach down and say, 'Hey, Southern and Grambling, the Bayou Classic, we're going to use you all.' I think it speaks volumes and speaks to the trend of where we're going."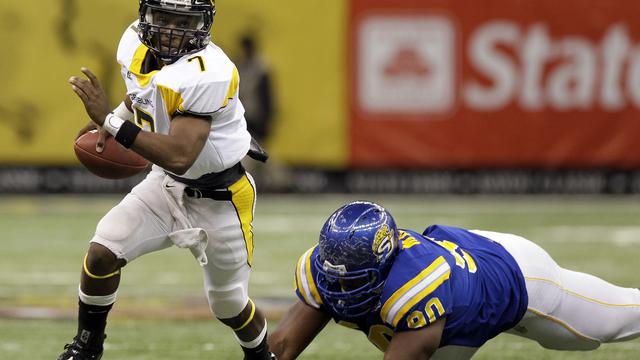 Banks said this could lead to more opportunities and open new doors for other HBCU's. However, Banks said they must go out there and prove that they are worth the investment.
"Just talking about it is not good enough. We're getting the opportunities, now we have to get these opportunities and develop others," said Banks.
This technology waiver will carry the following requirements:
The Jaguars are looking to extend their winning streak to four games, Southern has combined for 117 points in the three wins while the Tigers have scored 63 points.
Both Southern (4-6, 3-4 SWAC) and Grambling State (3-7, 2-5 SWAC) are having down years heading into Saturday's game.
Tickets for the game can be purchased here.
Click here to report a typo.
Copyright 2021 WAFB. All rights reserved.