3 ways to enhance your Alienware setup
 The Alienware brand is one of the longest-standing names in PC gaming, known for decades for its high-performance hardware and distinctive style. With their sleek sci-fi look, Alienware gaming rigs are almost instantly recognizable, but that may leave the rest of your gaming setup at odds with the style of your rig and monitor. Fortunately, Alienware's gaming accessories cover pretty much every corner of a setup, so you can dive in deep with a high-performance battle station that offers a unified aesthetic. 
Get ready to optimize your actions-per-minute with Alienware's mice and keyboards. Alienware has a few premium, mechanical gaming keyboards that'll reliably deliver your inputs to your PC in a millisecond, and a couple with a low-profile key switch option to help you go that much faster. You'll find options with per-key AlienFX RGB lighting underneath floating keycaps, so your style can really shine. Plus, you'll get anti-ghosting and N-Key rollover to ensure your keypresses all register.
You can put more control at your fingertips with the 10-button Alienware RGB Gaming Mouse AW510M, letting you load up on macros to fire off in the heat of the moment. Or you can ditch the leash and go wireless with the AW610M, which provides high-performance tracking at accelerations up to 40G and speeds up to 400IPS, and it can run for up to 350 hours on a single charge.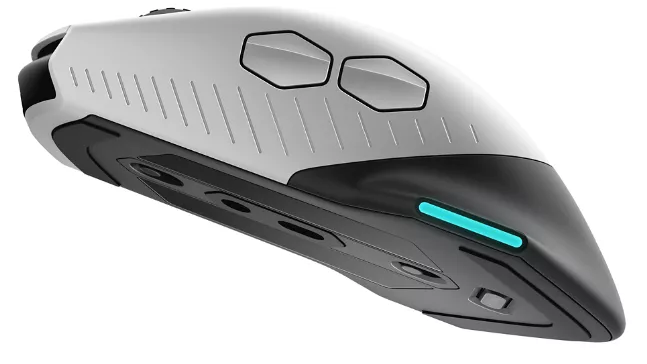 You can take your game audio beyond the basics of stereo with the Alienware 7.1 Gaming Headset AW510H. It offers 50mm Hi-Res drivers with an extended frequency response range, and it can support 7.1-channel virtual surround sound. 
If you want to wrap yourself up in surround sound without also getting wrapped in cables, you can also go with the pitch-black Alienware Wireless Gaming Headset AW988. This will deliver wireless gaming for up to 15 hours on a single charge, so you'll be good to go even on marathon play sessions, plus it offers special features like two-zone RGB lighting and a game/chat audio mix dial to ensure you always hear the most important details whether you've got teammates shouting or intense action happening in-game.
Alienware can even help you stay comfortable while you game on all this gear with the Alienware S5000 Gaming Chair. If you regularly take your Alienware gaming laptop with you to game on the go, you'll also have the option to pack up and transport your gear in Alienware's bags and backpacks. Whatever your gaming setup needs, Alienware has you covered, even if it's just PC parts to fix or upgrade your rig.
If you're ready to see all the ways Alienware can spice up your gaming rig with high-performance gear, check out all of Alienware's accessories and gear here.