Emulation on the cheap using original XBox - Part 1 - What it ...
As some of you may know I am not only a big fan of gaming on original systems but also like to dabble in the dark art of emulation. Yes, I know many purists will be hitting the back button in disgust – but I am of the opinion that emulation has a place in every retro gamer's life. Emulation lets you experience games in near pixel-perfection that you may not ever be able to afford or find and from a historical perspective it is a great way to archive and catalogue titles that would otherwise disappear.
My choice of emulation tool is a self-modded original (some call it 'classic' now) Microsoft XBox. I have been asked on numerous occasions about how to mod an XBox and what a modded XBox is, so in this series of posts I will show you the capabilities of my 2 units and show you how to go about getting your own.
I chose to use this particular hardware after stumbling across websites run by enthusiasts and finding just how big the XBox mod scene still is and what a capable machine they are for emulation purposes. Almost every emulator ever made has been ported to XBox and in most instances has been enhanced still further by enthusiasts with the addition of video sets and artwork. Many of you will have already heard of or use XBMC on other hardware (Apple TV etc.), well it all started on the humble XBox hence it's name (XBox Media Center). Of course you can use an XBox as a great networked Media Centre and it does many more things besides but as this is RGC I will concentrate on the subject of retro computer and console emulation.
A modded Xbox is my choice over PC/Mac emulation for the following 6 reasons:
1.The XBox is relatively easy to mod yourself (soft-modding a standard 8gb XBox takes minutes once you know how and have the tools/software)2.The unit fits under your telly, unlike a PC3.A classic XBox is cheap, I saw them being sold with a controller for £14.99 recently at my local GameStation. eBay is another good source of cheap XBoxes.4.I use Macs, have done since 1988 (Mac Plus, SE-30, IIx) and as Mac users will know we are the poor relation to PC users when it comes to emulation.5.Unlike an Xbox 360, the original Xbox is very reliable – almost bombproof.6.The developer scene is still going strong and new versions of popular emulators are released weekly
A modded XBox also has the following advantages:
1.Region free games and DVD2.Ability to run in HD (720p and even 1080p)3.You can upgrade your HDD to something larger4.You can save your DVD movies and games to your HDD and play from there (faster loading times)5.Ability to use a mouse and keyboard (great for all those point and click adventure titles)6.Massive development scene resulting in hundreds of ported emulators and utilities7.Fully networkable over LAN with any other devices you have8.Good alternative to a PC in a home arcade cabinet setup9.Once the HDD is upgraded they make decent Network Media Centres (XBMC)
My XBox Specifications:
XBox 1 – Crystal Edition v1.6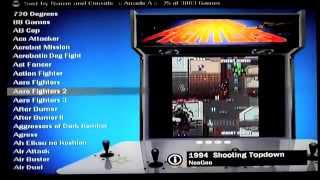 Hardware:Soft-moddedUpgraded 250Gb HDDBoots to XBMC, internet connected
2 x Crystal controllersDVD Remote and sensor
Software:A7800X – Atari 7800full ROM setAtariXLBox – Atari XL / 5200 full ROM setBlueMSXBox – MSX full ROM setCapcom System 3 771.6 mbAdamX – Colecovision full ROM setCoinOPS 5 complete (over 3,800 games) + full video setFinal Burn Consoles 4.06 gbFinal Burn Legends 12.20 gb + full video setBlissX Intellivision emulator full ROM setMednafenX Lynx emulator and full ROM set 334.3 mb + full video setMekaX full Game Gear ROM set, full Master System ROM set, Sega SG 1000 full ROM set + full video sets 1.9 gbNeoGeo CD 420 mb full ROM setNeoPopX 272.3 mb Neo Geo Pocket full rom set, Neo Geo Pocket Colour full ROM set + full video setMednafenX NES emulator 5.62 gb full ROM set + full video setOdyssey 2 / G7000 full ROM set + full video setMednafen Pce – PC Engine 14.39 gb full ROM set + 99% video setPlayStation emulator with 10 gamesScummVM 6.91 gb full ROM setSinclair Spectrum 276.6 mb full ROM setSnes9XBox – Super Nintendo 7.21 gb full ROM set + full video setSurreal 64 CE – Nintendo 64 5.77 gb 268 ROMs + 95% videosWinSTonX – Atari ST 1.18 gb full ROM setWinUAEX – Amiga 500/1200/CD32 emulator 5.29 gb full ROM set + full video set for hd romsXboyAdvance – Game Boy 13.97 gb full ROM set for Game Boy/Game Boy Colour/Game Boy Advance + full video set for allZ26X – Atari 2600 full ROM set
XBox 2 – Black v1.4
Hardware:Hard-modded with Team Xecuter X3 Chip, plus Team Xecuter X3IR and serial portUpgraded 250Gb HDDBoots to XBMC, internet connected
2 x Black controllersDVD remote (for X3IR)
Software:CoinOPS 3 with 3077 Arcade, C64, Game Boy, Master System, Mega CD, Megadrive, NES, N64, PC Engine, PC Engine CD, Playstation and SNES gamesOtherwise used primarily for DVD movies/net based movies
Video of XBox 1 (Crystal v1.6) in action (CoinOPS 5)
Video of XBox 2 (Black v1.4) in action (CoinOPS 3)
VIDEO
Related